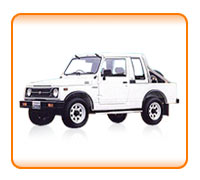 Ok, I forgot the camera twice now, so you'll just have to believe me.
Maggie fell on a boulder in the dark and busted her coccyx a bit (no permanent damage, but very painful) and so I took Grampy and the kids to Leh by myself. After a much delayed departure, Grampy flew from Kushok Bakula RInpoche Airport, and after that, who knows. The kids and I et breffis, I mangled a little business, and then by hook or crook we managed to scare up a Tibetan with some horses and went for an awesome (if slow by anybody but a 5yo's standards) ride across bridges, over streams, through rocky desert, and up to the foot of Stog Palace.
Next day my friend Dawa Tsering lent us his qualis, and we zoomed to Hemis for the mask dance festival. There was so much waiting around that we only saw the one dance, and then we ahd to back to Choglamsar to deposit Dawa;s daughter Nyilza back at her house with her mother, and then back to Leh to get
OUR CAR!


It's a maruti gypsy, with no roof, 4wd, and about a 1.1-1.3 liter petrol engine. This morning on the way back into Leh I hit 98kph, = top speed of 60. I tried to explain to the monk with me why this car would never work for America, but to no avail. Anyway, it frees us up some and lets us be more independent, plus Ladakh is some fo the most fun and exciting driving anywhere.

Pictures when we have 'em. Everything else is good.